This is the paper version of the Shrieking Violet, a 16 page free fanzine of which there are 30 copies around Manchester. It features creative writing by
Emma Tillyer
and
Rebecca Willmott
, an article on regeneration in north Manchester by
Alice Ruth White
, an article on how feminist Sex and the City is by
Olivia Singer
, illustration by
Stephen Marshall
and a front cover by
Dominic Al Bhardi
, as well as a B of the Bang obituary by me, an article on blackberry picking and recipes and articles on street names and canal boat names.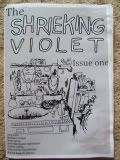 The Shrieking Violet issue 1 can be read online here (pages unfortunately not in right order):
To request a paper copy email Natalie.Rose.Bradbury@googlemail.com, or alternatively download and print this PDF (some of the formatting went a little funny when I converted it to PDF, I don't know why)
here
. To assemble your Shrieking Violet zine, print the pages double sided and fold them into the correct order.
For the best Shrieking Violet experience, pages 7-8 should be read whilst listening to the jangle pop tune
Streets of Your Town
by 80s band the Go Betweens, transporting the scene from Australia to Manchester:
"Round and round, up and down
Everyday I make my way
Through the streets of your town
Don't the sun look good today?
But the rain is on it's way"
This should be followed by the Scottish jangle pop tune
Charlotte Street
, by '80s indie band Lloyd Cole and the Commotions.